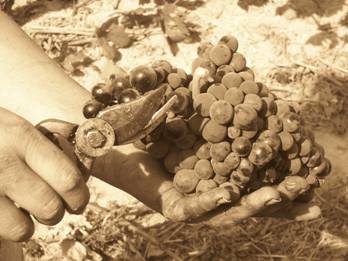 To delicately work the fruit: the essence of the wine, to produce small quantities and to conceive wines of high quality, to create wines of character, gourmand, elegant, fruity and powerful is our daily challenge.
To do this, we manually harvest the grapes in their optimum maturity, we completely remove the branches after a second sorting at the table, we manually control the temperatures. Fermentation varies between 22 and 35 days depending on the vatfuls and vintages. It is then turned into wine in small vats, allowing us to separate them into the different grape varieties and parcels of land. The maturation is either done in vats or in barrels of 3 wines in order to focus on the micro oxygenation and not the tannin of wood.
On the land there are 8 varieties of grapes (Merlot, Cabernet Sauvignon, Carignan, Grenache noir, Syrah, Cinsault, Grenache Blanc and Mourvèdre) which produces 6 vatfuls.